Del-Lords 2021
I met Scott "Top Ten" Kempner in Boulder after a Dictators show at the University of Colorado in September of 1978. I'd seen the band for the first time at the Ivanhoe in Chicago with the Ramones a year earlier. My band the Dirty Dogs, the first punk rock band in the state of Wyoming, had already been covering their songs.
We reconnected by chance after I had been bounced out of Joan Jett's Blackhearts and I found myself at The Music Building on 8th Avenue in Manhattan with Scott, Manny Caiati and Frank Funaro. We quickly became a band focused on playing and singing the tunes Scott had written for us.
The Del-Lords lived together, played together, recorded and released records as a band through 1990. At the urging of Spanish Promoter Pepe Ugena we reformed the band in the last decade and recorded and released our most recent music in 2013 on the album Elvis Club.
I want to let the good friends and fans of the Del-Lords know that my guitar brother Scott is currently struggling with the early stages of dementia.
He wants everyone to know that he's doing good and in addition to the new music he's been working on with the Dictators and friend and producer Neil Giraldo, he's psyched to let you know about the new Del-Lords tunes we have been recording with Frank, Steve Almaas and myself too.
It's been my good fortune to sing and record Scott's songs with the Del-Lords and with my own band.
Right now Scott could use everybody's positive thoughts.
So let's all pitch in for Top Ten and send him those good vibes.
E/Roscoe
Closing out 2016 with one NYC gig and some more recording
Hello Friends,
The Del-Lords are reconvening at the new location of Eric's recording studio Cowboy Technical Services in December for more recording and we were able to convince the folks at Beast of Bourbon to have us back for another gig. We'll be playing Tuesday December 13th at 9pm and we hope you can join us for a night of Rock & Roll with a healthy dose of Beer, Bourbon and BBQ.
We hope you can make it to Beast for this special gig.
2016 Short Notice NYC Gig Jan 13 in Brooklyn
Del-Lords 2015 tour dates in Scandinavia and the NY area postponed.
Well, just when we thought it was safe to go back in the water, or on a plane, or a stage, or pretty much anywhere, the powers of the Universe have decided, "Not so fast, pally". As Eric reported just a few days ago, with the photo to prove it, he had an accident at home, and slipped and broke his fibula. You might remember that photo of him in that compression apparatus, and here today we present the follow-up to the compression apparatus – a full-on foot, ankle, leg, stabilizing boot. Judging by just the look of it, i would say it is mighty uncomfortable.
So, what is the skinny on all this, the headlines, the story so far? It is surgery for my guitar brother, our producer, our friend and colleague. Eric will meet with the surgeon on Tuesday of next week, and get the lowdown on what he will be facing. Besides the fun and games of surgery itself, then he will get an idea of what he will be facing recovery-wise. I am no doctor, but i am sure it will be a monster drag, not without discomfort and pain, and will take some time.
So, by now you can see this taxi coming like it's coming up 6th Ave, after midnight, in the rain. Yes, it pains us all – Eric most of all – to announce that the upcoming shows, while still upcoming, are not going to happen in September. We have to cancel and reschedule everything for now, as we just do not have the necessary info at this time to say when we will be making up those dates, both Europe and NYC, and Joisey. We will absolutely make good on every one of those dates, as well as starting the recording of a new record as soon as we can.
We are sorry to have to make this announcement, but such is the fickle finger of Fate. After a year away for Frank and myself to have and recover from surgery, it feels more than a little unfair of the Universe to fuck with us this way, but we must do what we must do.
Of course, just in case, and before anyone suggests this – there is not a chance in Hell of hiring a sub for Eric. Eric is completely and absolutely irreplaceable for even one minute, let alone a tour. As you know, he is one of a kind – our kind. We are not the Del-Lords without him, and that's that. Just in case, someone wanted to suggest it. Ya know, Mick would wait all night for Keith, and we will wait as long as it takes for Eric.
Scott Kempner 8-17-15
2015, The Del-Lords are coming for you
Live Single, tour dates in the planning stages. Head over to the Top Ten Blog for the full scoop.
Help A Brother Out, Frank could use a hand.
Head over to the Top Ten Blog for the latest news.
Gigs: The Del-Lords Trans-Atlantic 2013. Underway now!

Gigs: The Del-Lords are hitting the road!
Check out the Gigs Page for details. Cleveland, Grand Rapids, Chicago and St. Louis this week! Heading to Europe on October 25.
Even more Del-Lords music!
The folks at Del-Lords official are proud to announce that in addition to our first new full length in 23 years, "Elvis Club", we also have the 2 volume set "Right For Jerry" available here only for CD's and at the Del-Lords Bandcamp site for downloads. Read about "Right For Jerry" at the Top Ten Blog. Please keep an eye on the Gigs page. We are heading to the Americana Fest in Nashville with gigs on the way. Then to the West Coast, then some NE dates around the CBGB's Festival and out to the midwest before heading Overseas for a month starting Oct 15.
Del-Lords release "Elvis Club"
Official 'release date' for the record is May 14th and that day is today! If you have a record store by you there's a good chance they'll have the record!
Del-Lords "Elvis Club" CD is here and shipping now.
Official 'release date' for the record is May 14th but we have the cd for you here now.
CD pre-orders available now here on the Store Page.
Special pre-order packages also available from GB Music
And you can listen to the whole thing and get it and a pdf of all the artwork at Del-Lords/Bandcamp!
"Elvis Club" somehow got scooped by iTunes and it's out there early folks!
Video EPK for the Del-Lords "Elvis Club"
the new Del-Lords full length album "Elvis Club" to be released May 14th on GB Music.
Del-Lords "Elvis Club" is officially finished.
The new Del-Lords full length album "Elvis Club" will be released May 14th on GB Music.
Heads up Del-Lords fans.
Mixing on the new full length Del-Lords record titled "Elvis Club" is finished. Plan is to release the record this fall on GB Music LTD. We will also be releasing a 2 cd set of demos titled "Right For Jerry" parts I & II. Stay tuned for more details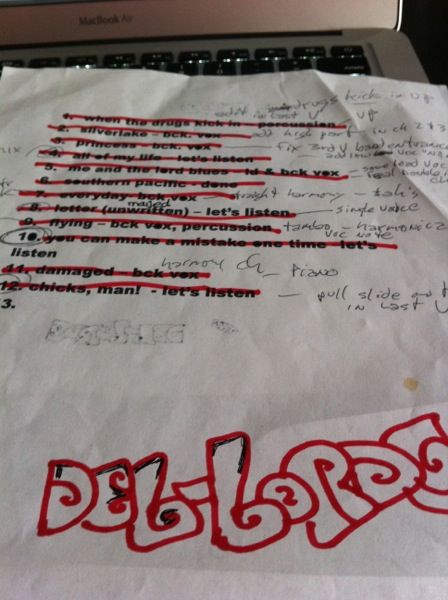 Yeah Man, The Band….
The Del-Lords have completed basic tracks for their upcoming record at Cowboy Technical Services in Williamsburg, Brooklyn. The band welcomes Michael DuClos to the fold. Read up on the Top Ten Blog.
The Del-Lords-Turbo Rocked!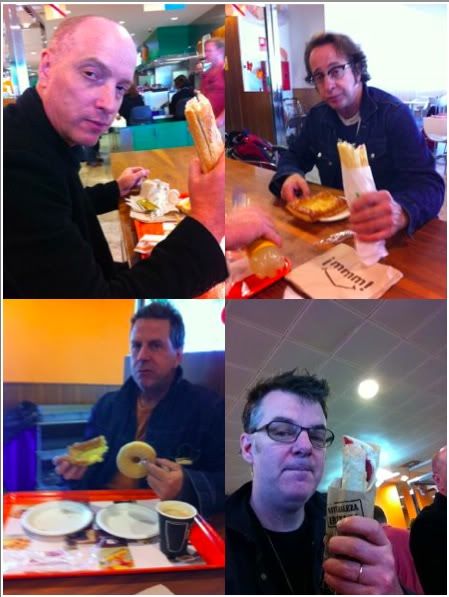 Back from a whirlwind 2 date festival romp in Spain. Read more on the Top Ten Blog
The Del-Lords-Turbo Rock!
Info at Turbo Rock
U.S. Warm up date: "Elvis Club" at the Lakeside Lounge in NYC August 30 at 9pm. No advance tickets. Suggested donation $20 per person
The Del-Lords head to Bandcamp.com
Hello Friends,
we are starting to work on the second batch of tunes for our upcoming record. We'd like to thank everyone who bought one of the limited copies of our "Under Construction EP". As we drag ourselves into the technological future we found a spot to place the 5 songs for listening or purchase as downloads. Check out the Del-Lords at Bandcamp.
Thanks for the great 2010
The Del-Lords had a great 2010 thanks to all of you. New recorded music and the first shows in 20 years. More music and shows to come in 2011. Thanks much.
More News: New Music from the Del-Lords.
The Del-Lords are pleased to announce Under Construction.
You can listen to the whole limited edition EP of rough mixes from the first new Del-Lords recordings in 20 years on the Music page. Available here exclusively.
Spanish Tour T-Shirts.
We have a limited quantity of T-shirts from the Spain Tour. They will be available on the music page starting March 22. Below is a photo of Alison Jones, bass player for Spanking Charlene and the Roscoe Trio, in the red 100% cotton Del-Lords T-shirt.
Del-Lords Spanish tour dates are in.
Check the Gigs page for the latest info on the 2010 Tour of Spain.
Merry Christmas from the Del-Lords
Way back when the Del-Lords invited ace musicologist Andy Shernoff up to their little practice room/clubhouse/studio on 8th Avenue to help them record a Christmas song that Scott had written. They dubbed 200 of them to cassette and stuffed them in envelopes that went to friends, fans and family pretty much in lieu of gifts for that year. This holiday season the Del-Lords would like to pass that gift along to all of you.
Here's the News
Welcome to the new Del-Lords Website. 26 Years after they began in NYC The Del-Lords have begun work on new recordings. Their first 4 albums have been re-released by Collector's Choice-American Beat with bonus tracks and expanded liner notes. Check out the site for more detailed info and hit the Top Ten Blog for the latest.
We'll be adding more content as we get it.